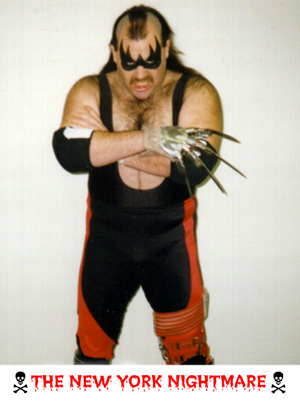 WELCOME TO MY NIGHTMARE
Thank you for visiting the official site of the New York Nightmare.


Feel free to take the grand tour. The links to the left are self explanatory.


Check out some awesome pics on the photo pages, see if the NYN will be appearing near you, order an official NYN shirt, or just drop the NYN a line.


We hope you enjoy your stroll down Nightmare Alley.


Sweet Dreams!
NYN VITAL STATS
HEIGHT: 6' 0"
WEIGHT: 312 lbs
HOMETOWN: Buffalo, New York
YEAR TURNED PRO: 1990
FAVORITE MOVE: Flying Clothesline from top rope
FINISHING MOVE: Standing Legdrop known as "SWEET DREAMS!"
CATCH-PHRASE: "I'm gonna drag you crying and screaming down the Boulevard of Broken Dreams!"
TITLES HELD: IWF Heavyweight Champion, UWA Heavyweight Champion, CWF Heavyweight Champion

Where have I seen the NYN before?
The NYN has wrestled from coast to coast and on various wrestling TV programs since 1990.


The NYN has been seen on "CBS This Morning," and on several NBC national news affiliates.


The NYN's picture appeared in the July 16, 2001 issue of Newsweek magazine, and in the December 2000 issue of Wrestling Superstars.


The NYN can be seen globally in a music video called "Good Times," by the Christian band, "Lugnut."

The NYN can also be seen in an Adelphia Cable commercial.
Who has the NYN wrestled with?
The NYN has wrestled with several top names in the world of wrestling including Jake "The Snake" Roberts, The Junk Yard Dog, "Dr. Death" Steve Williams, Greg "The Hammer" Valentine, and "Gentleman" Chris Adams.

The NYN has been on the same card with the Road Warriors, Jimmy "Superfly" Snuka, Dan "The Beast" Severn, Viscera, "Hacksaw" Butch Reed, A.J. Styles, The One Man Gang, Kamala, Skandar Ackbar, "Iceman" King Parsons, Lash Lareaux, the Rock & Roll Express, and many others.

Check out the Superstar photo pages.
Isn't wrestling fake?
Well, kid, we ain't on strings out there. I've broken several bones, torn more ligaments than I care to admit, and have seen some of the ugliest ecchymosis (look it up, it won't hurt ya to learn a little somethin' while you're here) known to man.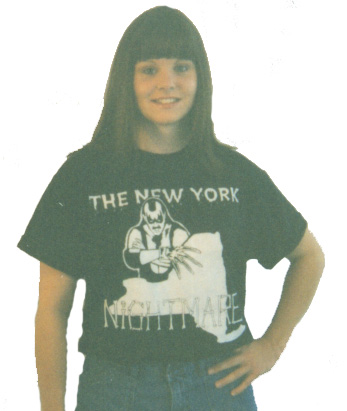 NIGHTMARE SHIRTS AVAILABLE!
E-mail me to find out how to get your own
NEW YORK NIGHTMARE
T-shirt.
Only $ 15 + S&H